Service with a smile with Antonia Sainz
OR
Download and stream all our movies with monthly plans
Pay as you go = unlock only movies you want with token package!
Download full video here Download the gallery
Story
Antonia Sainz is feeling in the mood for some kinky play when laying next to her boyfriend in bed so decides to wake him up in an imaginative way. She pulls down her white leggings and starts to shower him with her pissing pussy. He wakes up and Antonia licks her juices from his back before they start to kiss. Antonia pulls down his boxer shorts and sucks on his cock, using both her hands and mouth to work his rock hard shaft. This stunning brunette babe lays down next to her man and sprays another stream of her piss over his cock, before climbing on top of it and rubbing her pee soaked pussy over his shaft. Continuing her blowjob, Antonia gets on her knees and takes her boyfriends warm piss in mouth. Smiling as she tries piss drinking, Antonia spits some of the golden liquid down over her tank top. Laying down on the bed, Antonia masturbates her pussy while being sprayed in more golden showers then this couple start to fuck! After switching positions and taking his cock deep into her pussy, Antonia kneels back down before taking a messy facial over her face and hydrates after drinking a glass full of her boyfriends pee!
Starring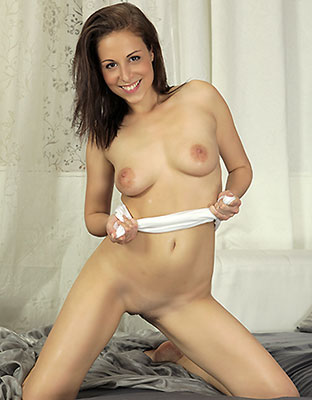 Antonia Sainz