Fill my Ass with Eveline Neill
OR
Download and stream all our movies with monthly plans
Pay as you go = unlock only movies you want with token package!
Download full video here Download the gallery
Story
Eveline Neill appears on our latest installment of Pee on Her videos and is teasing in the lounge in a skimpy little outfit. She bends over and shows off her perfect ass and reveals that she isn't wearing any panties! As we zoom in close on her delicious looking pussy, Eveline lets a stream of her golden piss trickle down into a glass vase. It turns out to be quite a messy pee, and while midstream, our guy enters the room and pulls out his cock before aiming his own piss inside ass and all over her cheeks. Eveline picks up the bowl filled with her own juices and hands it to him, pouring the contents down over her top and soaking her through! Eager Eveline starts to suck our guy off and then as she is kneeling, enjoys some piss drinking as he fires a stream into her mouth. Eveline lays back and pees into a vase before bending over the sofa and getting her pussy played with. She enjoys her fingering fun and then gets her pussy gaped apart with a metal speculum. Our guy aims another pee stream and starts pissing inside pussy while Eveline rubs her clit. This watersports play quickly turns into some serious fucking and Eveline even gets her ass fingered! A plastic speculum is used before Eveline's ass is filled with fresh piss and then naughty Eveline goes between her holes, including some ass to mouth action before taking another taste of that golden nectar!
Starring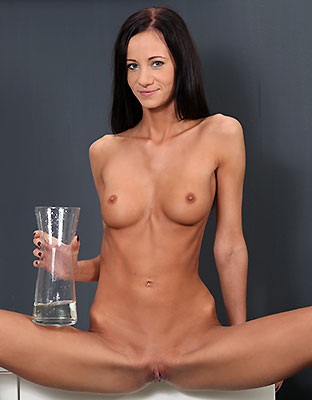 Eveline Neill